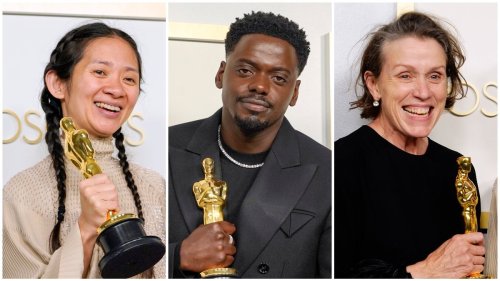 10th February 2020, approximately 4am UK time and history is made as Parasite becomes the first film not in the English language to win the prestigious Best Picture Academy Award. A night of celebration that now seems a lifetime ago.
It is fair to say that the last 14 months or so have been strange, every day life has changed in ways none of us would have foreseen when Parasite won. During the past year and a bit I have often been reminded that it isn't just us "normal" people who have been effected by the Pandemic, but the rich, famous and adulated stars who we mistakenly believe sit in their ivory towers oblivious to the struggles of every day life. Further proof if needed arrived in what can only be described as THE oddest Academy Award ceremony I have ever witnessed.
There were people who said that under the circumstances the ceremony shouldn't even take place this year, but perhaps due to those very circumstances, it was more important than ever to host the event, even if it was going to take a radically different format to what we know, and as became the night progressed, love about the Academy Awards. Pandemic or not some of the artistic decisions on show tonight by event director Steven Soderbergh were baffling and awkward, but an interesting night nonetheless.
The Nominees
The main personal sticking point this year was that unlike most years I have not managed to see the majority of the nominated films. I usually at the very least get the Best Picture nominees watched, but this year I managed just 4 out of the 8, some of them such as The Father is not released in the UK until July so it has been hard this year. Again circumstances put of every ones control dictate that somewhat. The point is I went into the ceremony rather blind and therefore I can't really say whether the winners were the best choice out of the nominees or not, however Anthony Hopkins must be career-best sensational to be picked above Chadwick Boseman, (one of the night's true surprises).
The Ceremony
In the last couple of years, pre-COVID the Academy Awards has managed quite nicely without a designated host. I can't help thinking that last night would have massively benefitted from having a host, someone who could keep a handle on proceedings, and give the audience the impression that at least one person knew what was going on.
The main issues were a lack of cohesion, a feeling that things were being made up on the huff, someone was insuring that all the boxes were ticked but weren't entirely convinced of the order they should have been ticked in. Alex Zane who gamely presented Sky's coverage would announce the upcoming award only for that not to happen when returning to the station. It was all a bit messy.
As for the awards themselves, a quite frankly baffling decision was made to rarely show any clips when announcing nominees. In a year when it is well documented that audiences are not as familiar or had opportunity to see some of the nominated films, to help with context you would have thought they would have shown clips. Every Oscar ceremony I can remember had clips of the artists work to admire. Instead we had those awkward moments where a presenter is gushing about the nominees work and the nominee has to look into the camera whilst they are being gushed about. It was similar to when people sing you Happy Birthday, you never know where to look when that is happening.
Maybe to compensate for the lack of clips, all acceptance speeches were allowed to run for their entirety, which was very nice, but……………………in some cases I think I would rather have had the clips. I know it is a moment of a lifetime but you know if you give some people an inch etc. With no clips, montages (I really missed celebratory montages) or musical numbers the ceremony still managed to almost hit the 4 hour mark. I'm not entirely sure how.
The setting was interesting but with no live audience and unless nominated, none of the A-List celebs there it all felt a little bit flat, a bit like the 2017 East Midlands local, small Business awards that I helped organise.
I'm not massively into celeb culture but I do love the glitz and glamour of Oscar night, seeing some of the classic actors making rare public appearances, the opening monologues, the montages that more than often than not truly celebrate an aspect of Cinema. Perhaps for obvious reasons these were not there, but I have to say I did miss them. The random pop songs that seemed to accompany presenters and winners onto and off the stage gave it a kind of BAFTA feel, which isn't necessarily a bad thing, but I want the Oscars to feel special.
Then we got to the In Memoriam section. Without being over dour I always look forward to this segment as it is a time to quietly reflect on those who have contributed so much to our love of Cinema who have sadly passed. However this time they raced through it as if everyone had somewhere more important to be. Double Academy Award Winner. 104 year old Olivia de Havilland was passed over so quickly it was all rather disrespectful, even more so when you consider the show had just dedicated 10 mins to a cringeworthy music quiz.
As for the quiz, which culminated in Glenn Close twerking, it was rightly or wrongly the only time that this ceremony dared to drop its guard and have a little bit of fun. The problem it wasn't that fun and just raised the volume slightly of the awkward (bored) laughs that had sprinkled through the auditorium from the start. I did genuinely think at first that the broadcasters had forgotten to go to an ad break and this was being broadcast unbeknownst to the participants.
Bryan Cranston presented the Jean Hersholt Humanitarian Award from the Dolby Theatre, the current traditional home of the Oscars. I found it quite moving seeing the place and we can but hope that the Ceremony next year is back there.
The final headscratcher was the running order. We had Best Director awarded in the first hour which I didn't mind, but the Best Picture surely should always be the final award. It's what the ceremony builds up to and this year it was brought forward to be before the Lead Actor and Actress awards. An odd idea was made worse when the ceremony ended on a damp squib as Anthony Hopkins winning Best Actor wasn't there or even in London on Zoom and the ceremony that had struggled to keep people engaged took one last gasp before completely dying on its arse.
The Best Picture award surely is the culmination of the evenings celebration, more often than not taking into account all the elements that have gone before it. It was like they had forgotten about the Lead acting categories.
The Winners
I don't mean to be negative, the Academy Awards is one of my favourite nights of the year, and I'm really pleased that there was any kind of ceremony at all, but a lot of didn't work for me.
Like I said at the starter I haven't seen a lot of the films so I can't really judge whether they would match my personal choices. However I am thrilled for Daniel Kaluuya, who went onto make one of the most out of control Oscar acceptance speeches of modern times. I would have liked to have seen Chadwick Boseman (Ma Rainey's was one of the films I have seen), but delighted for Anthony Hopkins. I haven't seen The Father yet but I feel Hopkins has been overlooked in previous years so delighted he has been recognised.
I haven't seen Nomadland (hopefully will this week) but it can only be a good thing that Chloe Zhao won Best Director. It still total shite that only 2 women in 93 YEARS have ever won this award. With each ground-breaking moment, think Halle Berry with Monsters Ball, you hope that that will open the floodgates a bit more. Lets hope that, unlike the Leading Actress category has proved since, that Ms Zhao's door remains wide open for all females to be allowed to compete at the highest level.
Frances McDormand was perhaps a surprise winner, but now joins an incredibly exclusive club of 3 Acting Academy Awards. A lady who probably preferred the low key of this ceremony. She is all about the work and is a roll model that all young people should look up to. What a professional, what an actress. I look forward to watching Nomadland this coming weekend.
Overall, I am delighted and thrilled that they were able to get any kind of show together this year. I did enjoy it, at the end of the day, it was still the Oscars, lets hope that the 94th Academy Awards can throw caution to the wind and make it the spectacle that I've always enjoyed.
About me
My name is Dominic Holder and I like to promote the beauty and wonder of Cinema in my writing. I spend a lot of time promoting the power of Cinema as a tool of wellbeing to anyone and everyone. I love all kinds of films but in particular, I am a devoted fan of Steven Spielberg, Tom Hanks, John Williams, Star Wars, Disney and Marvel. My love of Cinema stems from a trip as a 4-year-old to local cinema in Bolton to watch a Star Wars/Empire Strikes Back double bill, it was the first in a series of life-changing moments, I knew from the moment the Imperial Star Destroyer engulfed the screen at the start of A New Hope I was hooked. Thankfully nearly 40 years later I still get excited and still find escapism and happiness within this wonderful medium.
You can follow me on Twitter @DomHolder and read some of my reviews on Letterboxd at letterboxd.com/DomH
You can read more of my blogs on Film at www.dominicholder.wordpress.com