The rain was coming down heavier now, big old fat rain, the rain that only comes in the summer. The bus had gotten stuck in traffic, the film started in less than 10 minutes, with any luck I would only miss the adverts and trailers. The Bolton Cannon Cinema was showing Star Wars, the original cut as well, for the first time in over 30 years and it was for one night only. I half expected the queue to go half way back into town, like in the days pre-multiplex.
The traffic was not improving, so I decided to make a run for it. It couldn't have been more than half a mile away. I begged the driver to let me off before the next stop, he grumpily agreed. The rain was lashing down now, I lept over lake size puddles, didn't fancy sitting for 2 hours with soggy feet no matter how much I wanted to see the film.
I rounded the corner and there it was the old faithful, The Cannon Cinema in Bolton.
I was relieved but at the same time slightly surprised that there was no queue. Counting my luck I dashed into the foyer, checking my watch. I breathlessly stammered to the old man in the ticket office, "One for Star Wars please…….it hasn't started has it?" With a wink and a smile that almost suggested don't be silly we were waiting for you, the old man shook his head "No, you are just in time, go right in".
I walked up the long dark enticing corridor and up a flight of stairs. At the top of the stairs I was actually in the auditorium, with the beautifully imposing giant red curtain bathing the whole room with a glowing expectation. This was my heaven, but it was a strangely quiet heaven. In fact I was the only person in the room. Had I come to the wrong screen?
Before I had time to contemplate, the projector at the back of the room spluttered into life, launching a beam of God light across the cavernous room onto a ginormous red velvet curtain, which almost on queue parted like the the red sea, revealing a 30-45 foot Cinema screen. I moved to a red velvet chair and perched on the edge as the projector clicked into top gear. The familiar site of the Fox searchlight blazed onto the screen with the accompanying fanfare. The screen momentarily went dark and then the following appeared in light blue writing.
As if a giant fan powered by a thousand trumpets suddenly burst into life forcing me back into my chair the yellow stencilled logo of Star Wars shot across the screen.
Star Wars (1977)

As soon as the yellow Star Wars logo disappeared off into the galaxy followed by that oh so familiar yellow text backstory, I sat back into the chair in anticipation for one of the most seminal moments of my life. The following minute of big screen action would give birth to my lifelong addiction to Cinema. Tantive IV raced across the screen being attacked by an invisible foe. Of course it was only momentarily invisible as the old dusty theatre began to rumble and shake as the Imperial Star Destroyer loomed into view. This scene remains as breath-taking now as it was when first viewed as giddy child sat on a chair not too dissimilar to the one I was on now.
I was instantly transported back to my 5 year old self, giddy with excitement. I must have seen Star Wars 50 times. It was my go to VHS during damp School holidays, it was the stuff of my once fervent imagination. The time literally rushed by, I had subconsciously been mouthing along with the dialogue, I knew this film word for word. I had completely forgotten that I was on my own.
The film was approaching its conclusion, General Dondonna had just briefed the rebel troops for their impending attack on the Death Star, Luke and Han had exchanged words about how much the Rebels could use Han, but he had debts to pay off and to be honest the mission was purely a suicide one. Luke climbed into his X-Wing, put on his helmet and then, right on queue a black seat belt shot across my lap and fixed itself to the other side of the chair. Instantly a control panel appeared in front of me, I had a sudden feeling of plummeting through space.
"ARRGGHHHH" I yelled into the void
"Red 5 are you ok?" a voice came from within my headset
"Hello, who, what, Red 5…..me?" I jabbered frantically
"I just lost my starboard engine, get set up to start your attack run" the voice in my head said
"What the hell………I don't know how to fly one of these things" before I knew it the X-Wing that I was somehow in control of plummeted at great speed and into an all too familiar trench. "Woahhhhh" I shouted as I grabbed the steering controls in front of me. I had two other fighters on either side of me, I assumed these to be Biggs and Wedge. I knew it wasn't going to end well for either of them. A screen in front of me showed that enemy fighters were closing in. Wedge took a hit and had to bail out, going against the script slightly I didn't tell him that was ok, if anything I thought it a little bit cowardly.
We carried on down the trench, Biggs was explaining that he would keep the fighters away from me long enough to do what I needed to do, which at this precise moment was desperately go to the toilet. Biggs inevitably met his doom in a shower of explosion. It was just me now, being chased by 3 imperial fighters, one of which was being piloted by a long lost family member maybe.
Without a clue what to do, I felt my time was up. Just then one of the three fighters exploded and a second one lost control and flew into a wall, at the same time knocking the middle guy, the leader spinning out into space. A voice came over the headset
"You're all clear kid, now lets blow this thing and go home"
"Erm…….ok, er quick question, how do I do that? I asked
"What?" came the slightly put out reply
"Well you see I have never been in one of these things before, and there was very little training so I'm kind of just pleased I'm keeping it in a straight line at the moment"
After a long pause the voice said "Can't you just use the force or some shit like that?
"Well, you see I was just watching a film and not really sure what is going on"
"You see that red button on the end of the steering wheel?"
"Yes"
"Just press it…..jeez"
I did what the voice told me to and sure enough two proton torpedoes fired out from the gun turrets of my X-Wing, I pulled back on the steering mechanism which lifted me out of the trench and back towards the deepest space. Behind me I heard (which is odd for Space) an enormous explosion that threw me back into my seat. At that precise moment I was back in the standard red velvet chair, Han and Luke were on screen receiving their medals, not sure why Luke was getting one, I'd done all the hard work. I always watch the end titles of any film I watch, I always have. I always thought it was important to look at every name, not just the stars, but every name of every person who had dedicated their time and dedication to making a piece of entertainment, designed to make people smile. All of these names belonged to individuals with greater talent than I could ever dream of.
2. Mary Poppins (1964)
Star Wars had finished the screen was now blank. I sat there is stunned silence. What had just happened? What was this place? I had heard of immersive cinema before, but had never been thrown so helplessly ill-prepared straight into the heart of the action. I had just flown an X-Wing, I had just destroyed the Death Star and this was no simulator, I had actually done it. Just as the enormity of it all started to hit me, the projector behind me began to splutter into life again, am I going to be thrown straight into the Empire Strikes Back, which would be partly cool, but also the thought of being attacked by a Wampa, crashing my X-Wing into a swamp or for that matter losing my right hand suddenly had me desperately needing the toilet again.
However it wasn't the Empire Strikes Back, I was now facing a blue screen with the words Walt Disney presents, closely followed by the words Mary Poppins. Now Mary Poppins was another one of my favourite films growing up, however unlike Star Wars, I had to keep that a secret until I reached adulthood through fear of the playground beatings that come with such a revelation. It was a film that always reminded me of Christmas, probably because it was on BBC 1 every year throughout the 1980s. I had always loved the songs, and the mixture of live action and animation used to blow my mind as a kid (it still does to be honest).
With my experience of watching Star Wars very much fresh in my mind, I did start to wonder whether the same would happen again with Mary Poppins. Even if it did, there was nothing much to fear here surely, I could jump on a carousel if I had to, I would quite happily have a tea party on the ceiling if called upon. Nearly 90 mins and I still haven't been called, maybe my Star Wars experience was just down to too much cheese before bedtime or some off meat in a sandwich I ate earlier, and I was actually just here to watch and enjoy.
We were now on the rooftops of London and Bert is currently dancing Stepping Time "wiv all iz pals". Bert continuously shouts instruction to his jolly friends such as "over the rooftops, Step in Time" and his friends would dance over the rooftops. After a magical section of daredevil choreography, Bert approached the screen and shouted "Mary Poppins, Step in Time". All the dancers on the screen stopped. Bert looking puzzled said again "Mary Poppins, Step in Time", still nothing. "Come on Mary, Step in Time" – Bert lent a bit closer and through a forced smile and gritted teeth said "You're holding the film up". Oh shit. He's talking to me, but he must be wrong I am a man, I don't know how to dance, I looked down and saw I was wearing a red velvet floor length coat, covered in soot. I stood up and caught myself in a rooftop window. I was a woman, quite fit one actually, but that's beside the point.
"Come on Mary, Step in Time" Bert urged, almost pleadingly.
"Its's ok you carry on, I'll just watch thanks" I sheepishly responded with a plum English accent that shocked me more than suddenly flying an X-Wing, and pulled away, but there was no getting away. Bert's chimney sweep friends gathered around me and started their dance again, with me in the middle. I suddenly found myself tapping along, and before I knew I was kicking my knees up in perfect time, it was getting close to my crowning moment, the mid-air twirls, I was going to go for it, this was going to be brilliant. I launched into the twirls. In the film Mary spins at least a dozen times, I knew I could do better and proper went for it. On the 20th spin I started to feel a bit sick, I came crashing down to the rooftop but in fact I landed once again in the velvet chair. Bert and his pals took turns to waltz past the screen, each of them doffing their caps to me as they went by.
The film carried on as if nothing had happened. Dame Julie Andrews was now back on screen where I had moments earlier been. I was starting to think that I was having some sort of psychotic episode, but a strangely enjoyable one.
3. Raider of the Lost Ark (1981)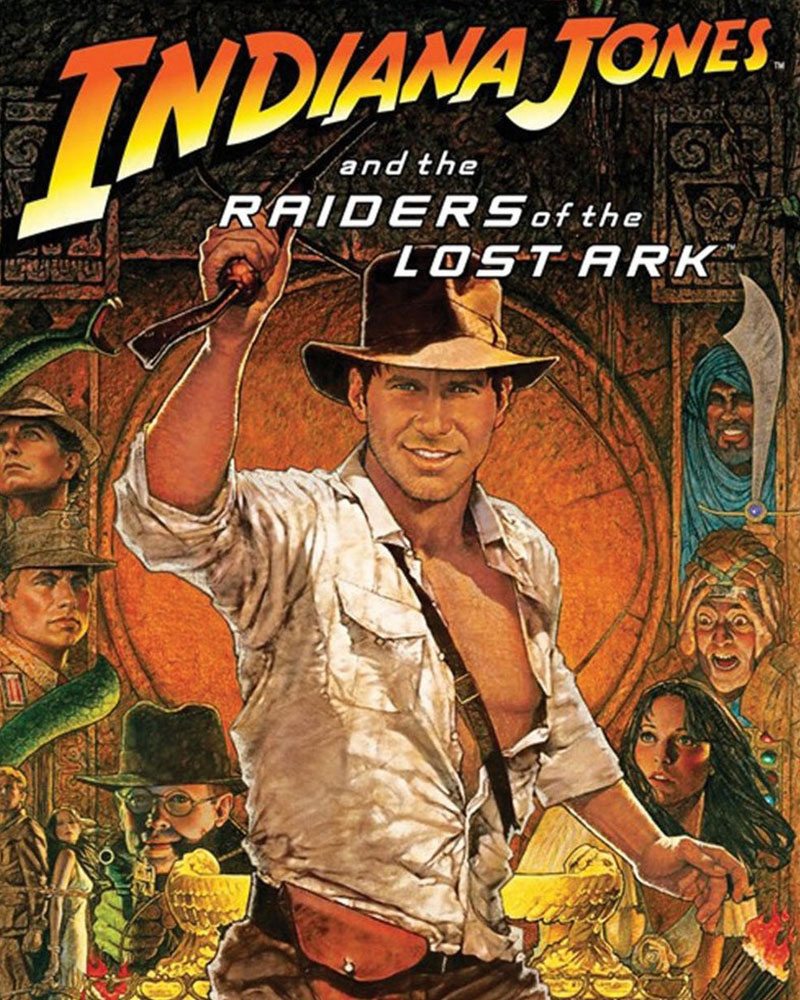 Mary flew away after the wind changed and Mr Banks had learned the lesson that it was more important to spend time with your kids and that money wasn't everything, I tried to comprehend what had happened to me in the last couple of hours. Was I done now, was I free to go? I hoped not but also feared what would possibly appear next. I didn't have to wait long. As if someone who knew me was orchestrating all of this from somewhere the Paramount logo appeared on the big screen and then dissolved into the actual mountain. I started to sweat, but it wasn't a nervous sweat it was brought on by the incredibly heat I was now experiencing, there was a buzz of insects and in the distance the howls of monkey's dominated the Cinema. Of course I wasn't in the cinema was I, that's right, I was in a Peruvian jungle, wearing a fedora with a bullwhip by my side.
Now under any normal circumstances being dressed as Indiana Jones would be awesome, but I wasn't stood in my living room anymore or in the father/son fancy dress competition at the work summer fair (he was Short Round). I was stood in the Peruvian jungle in front of a rather cobweb filled temple with my rather useless and even more treacherous colleague Satipo. I let out a huge puff of the cheeks. "Ok then lets do this" I reluctantly say and trudged through the entrance.
Satipo stops me to inform that a couple of large spiders are on my back "Ah well, you just wait till you see what is on your back" I inform him with a touch of snark. True to form he turns to realise he has the entire cast of Arachnophobia crawling his personage. We approach the beam of light. I should let him walk into it really as the conniving git is only going to stitch me up later anyway. I'm nice, I don't do that. We swing across the gap and enter the chamber with the golden idol at the end. Satipo doesn't know what I know and assumes there is nothing to fear here. Now according to the script I'm supposed to stop him, but sod it
"Yeah go ahead, fetch the gold statue for me". Satipo gives me a look that suggests I'm not supposed to say that.
"Are you sure Senor?"
"Yeah, it be right" I respond.
Reluctantly Satipo sets off. Two steps in he triggers the booby trap and smack, a poison dart straight through his face.
"Oh dear, nevermind" I say to his lifeless body "I'll go get it". Balancing carefully along the cracks I reached the altar and carefully replace the idol with a handy bag of sand that I seemed to suddenly have on me. As the temple begins to slowly implode, i dash through the chamber dodging the poison darts, leap over the chasm and slide under the slowly closing door. I get under the door a bit too easily so I quickly throw the whip through again just so I can swiftly retrieve it before the door crashes to the ground. I have a little giggle at how cool all of this is.
It was at that point that the rocks above my head started to shift, of course the rolling bolder, again the first thought was, this is very cool, I'll run away from it but maybe throw in a little stumble along the way. Then I thought, these Hovitos are genius's getting that thing to stay up there in the World's most elaborate booby trap. However I really should have just got on with it. The bolder was there heading right for me. It was actually a lot faster than it looked. "Oh shit" I turned and pegged it as fast as I could but it was constantly catching me, this was going to be close. I saw the cave entrance and dived full length through a cloud of cobwebs and landed at the feet of the seriously pissed off Hovitos. However I wasn't at their feet, in fact I was now face down on the floor of the Cinema.
Gathering my bearings I turned to look at the big screen as Indy, now in the more suitable guise of Harrison Ford was heading across the field, with the Hovitos in hot pursuit, yelling to his friend Jack to start the engine. I climbed back into the seat, as Indy's adventures played out in front of me. A feeling of exhiliration swept through me. A few hours ago, I had blown up the Death Star, danced on a London rooftop with a bunch of chimney sweeps and had now just been Indiana Jones. I never wanted this to end. Talk about your best day ever.
4. Toy Story 3 (2010)
As the Ark of the Covenant is wheeled away to be looked after by "top men" I relax in my seat. I should be tired but I'm anything but, I am packed full of nervous tension, what will happen next? I didn't have to wait long.
Oh fantastic, the Disney castle had just appeared on the screen, but hang on, whatever this is, how am i going to be transported into it. The familiar blue sky with white ice cream clouds appears, it's Toy Story 3, one of the finest films of the past decade. Script perfection and narrative storytelling has never seemed so effortless, its a work of wonder from the start. The film progresses along at a steady rate, but we are approaching the films climax and I have not been transported yet, then I start to develop an uneasy feeling, I take a quick glance around the Cinema, quickly turn to the screen and shout, to no-one in particular
"the furnace scene!"
I could hear a creaking above me, I looked up at the cavernous ceiling just as a large metal object crashed down onto my face. All was dark, all was quiet, I could still hear the film playing in the background. Slinky Dog was calling out Buzz's name, he strangely seemed to be getting closer. Then I felt somebody pulling my hands and I slid out from underneath whatever it was (turns out it was a big TV) that had pinned me and came face to face with red haired cowgirl Jesse.
"Buzz are you ok?"
There you go I was Buzz Lightyear and I was in the trash conveyor belt. As we approached the metal crusher at the end of the conveyor belt the call to grab something magnetic to rise to the magnified ceiling went up. Quickly grabbing a discarded lunch box I shot to the ceiling with my new friends. Of course the complete tosser of a bear Lotso abandoned us as we headed straight for the furnace. As the conveyor belt reached it summit we toppled into the mass of discarded metal and headed slowly towards our fiery grave. Despite our best efforts, the game was up, this was it. My friend Woody reached across and grabbed my arm, we shared a moment, a moment of friendship, a moment of togetherness.
I have always fancied the idea of being a writer, but never in my wildest imagination could I possibly write anything with the emotional wallop of what was happening to me now. My plastic arm was starting to gently bubble as we edged ever closer to the PIXAR equivalent of Dante's Inferno.
As the impending doom approached, a saviour from above arrived as the claw from heaven reached into the down and plucked us all to safety.
I was soon back in my chair. I had just been a cartoon character, bizarrely this one had felt the most real. As the end titles played across the screen, I finally began to feel exhaustion consume me, both physically and mentally.
As the PIXAR lamp jumped across the screen for one final time, the red curtain cruised across the screen and the house lights came on.
5. Avengers Endgame (2019)
I collected my thoughts and headed out towards the foyer which was now in total darkness, there was an orange glow coming through the glass square on the front door to the cinema, the smell of destruction wafted through the main door which appeared now to be hanging on by the edge of its hinges. As I approached the door, those hinges gave up the fight and door crashed to the floor.
The rain had stopped, that was for sure, but where the building opposite once stood was the remains of it, reduced to a pile of rubble, with the four corners still sticking out of the ground. In front of me I can see the scorched remains of those corners flames still licking the sides of them the sky is filled with thick dense smoke. What the hell has happened here?
The ground began to shake as a figure approached from within the smog. A giant of a man at least 10 feet tall, he had a bald head and a chin that resembled a purple nutsack. As the giant came into view, i realised that he was not alone. Appearing alongside him was hundreds, no actually thousands of extras, all of whom looked like they didn't want to ask me any questions, just to tear me apart. I was severely outnumbered, the coward in me suggested I just turned around and run back into the Cinema. The coward won, I turned with the sole intention of sprinting back in to the Cinema, closing the door and hiding under my completely inadequate red velvet chair. Small problem, when I turned round the Cinema had gone, replaced by, you guessed it a huge pile of rubble.
I turned back to look at my soon to be arriving assailant, he was getting close. I suddenly heard a strange gust of wind, out of the corner of my eye I saw something hurtling towards me at great speed, it was coming right for my face. I instinctively put up my hand, with a clanging thump I caught the steel handle of a very familiar hammer. Purple guy was still edging closer to me, as were his hoardes of angry followers. My first thought was "there is something awfully familiar about all of this". That thought was interrupted by a radio signal that simply said four words "Captain…….on your left".
To the left of me a bright orange portal appeared, sparking into life like a Catherine Wheel on Bonfire Night. From within it walked T'Challa, Black Panther in all his regal glory flanked by Okoye and Shuri. Over head, strangely accompanied by Alan Silvestri's rousing score flew Falcon. More and more of the Portals began to appear, heroes were appearing to help me against the purple gonad who was facing me. Spiderman, Dr Strange, the Guardians of the Galaxy, Antman, Zammo from Grange Hill and the entire cast of Rentaghost all arrived in a blaze of glory. Within moments an army had formed that was a match for the opposition. The musical score had reached its climax, there was only one thing left to do. As once again the familiar hammer flew straight towards me, I called all to arms
"Avengers!!!" – thump the hammer landed perfectly in my grasp……..
This blog has been written as part of the "Five-Films Forever" blogathon challenge, created by the brilliant Claire Packer owner of the Cinematic Delights blog page https://cinematicdelights.com/
More details on the Blogathon can be found here:
Claire can be found on Twitter as @C_Packer (https://twitter.com/C_Packer) and catch her reviews at https://letterboxd.com/C_Packer/
About me
My name is Dominic Holder and I like to promote the beauty and wonder of Cinema in my writing. I spend a lot of time promoting the power of Cinema as a tool of wellbeing to anyone and everyone. I love all kinds of films but in particular, I am a devoted fan of Steven Spielberg, Tom Hanks, John Williams, Star Wars, Disney and Marvel. My love of Cinema stems from a trip as a 4-year-old to local cinema in Bolton to watch a Star Wars/Empire Strikes Back double bill, it was the first in a series of life-changing moments, I knew from the moment the Imperial Star Destroyer engulfed the screen at the start of A New Hope I was hooked. Thankfully nearly 40 years later I still get excited and still find escapism and happiness within this wonderful medium.
You can follow me on Twitter @DomHolder and read some of my reviews on Letterboxd at letterboxd.com/DomH
You can read more of my blogs on Film at www.dominicholder.wordpress.com